So long time no post, I know.
Here's all the scattered thoughts in a post!
I get one day off a month.  Last month, I did my annual 'scale and clean' at the dentist.  But this month, I got my first ever filling 🙁  And I'm still sore now, about 6hrs later, but no longer numb.
I made a 'buy nothing new' pact with my mother post our US trip, for a year.  I did buy a $5 dress in Thailand, but chalked that up to the BF buying it 😉  Mum then bought a pink coat online.  Today I bought shoes from Camper, reduced from $270 to $189, for a style that's unheard of for going on sale (it's a staple, which is changing)
I'm reading and watching a lot of non fiction at the moment.  The documentaries seem to all gravitate around sex workers, I'm not sure why.  But I'm seeing all sides – from the law enforcement and people trafficking, to those that chose the life, to the youth involved.  As to reading, I'm reading about the Fast Diet.  With the dentist, I figured today was a good day to try it.  You eat 500 calories for two days in a week, and normal the rest of the time.  It's ok, but not exactly easy on a day off, but we'll see.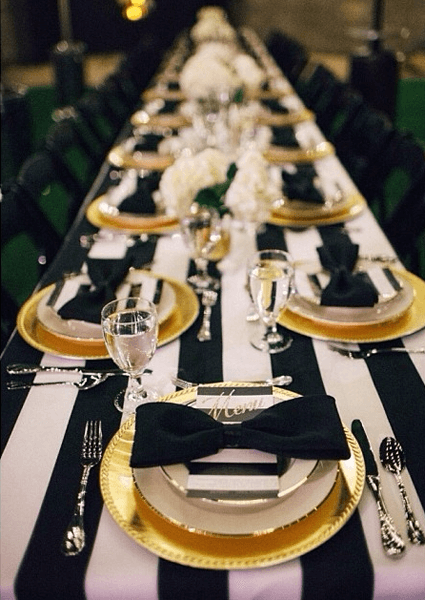 My mother's having a milestone birthday in August, and is planning to make it as awesome as mine was.  Our inspiration picture came from BetterAfter.  So for that, I have scowered many a store for black and white striped card.  Zazzle will make them online for 20 guests for $90 which is a little re-dic.  In the end, the local Kmart had something in the theme colours I can work with.  As for the table cloth?  Thanks Ikea Sofia fabric.  And the 8km walk I attached to the outing.  Yep, if I have a 'plan' of where I am walking to, and I really want to go there, then I can walk and walk.  Got me a blister tho!
Money.  I set part of my mortgage as variable, and part as fixed. The idea was to set the variable part to an amount I might be able to pay off during the 'term' of the fixed part, which was 3 years.  18 months in, I hit that target (on Wednesday).  I'm mighty impressed with myself!  So next up is some $$ to the shares, like I try to do annually, and then maybe the 'trip of a lifetime' plan – at least my idea if 6 weeks in Europe next summer, with a week in each of the following: Russia, Croatia, Iceland, France, Romania, Bosnia.
I've been on a mending frenzy.  Gosh I love mending.  I added gold buttons to a navy blazer, replacing the rubbering black ones that got stuck on the desk when I was typing.  I also sewed a different clasp on press stud pants to stop the awkward 'pop open'.  Darned some socks.  Seriously though, there's nothing I like more.  I reckon I should letterbox the neighbours, just for my own entertainment in front of the TV!
There we have it – a scattered collection of life from LivetoList.  How's things with you?