But they don't have to be gluten free (they weren't designed that way, but with so little of that glutenous demon it's hardly noticeable when you substitute).
Remember my Easter gift to the BF?  I'll remind you with some trademarked top quality live to list photos!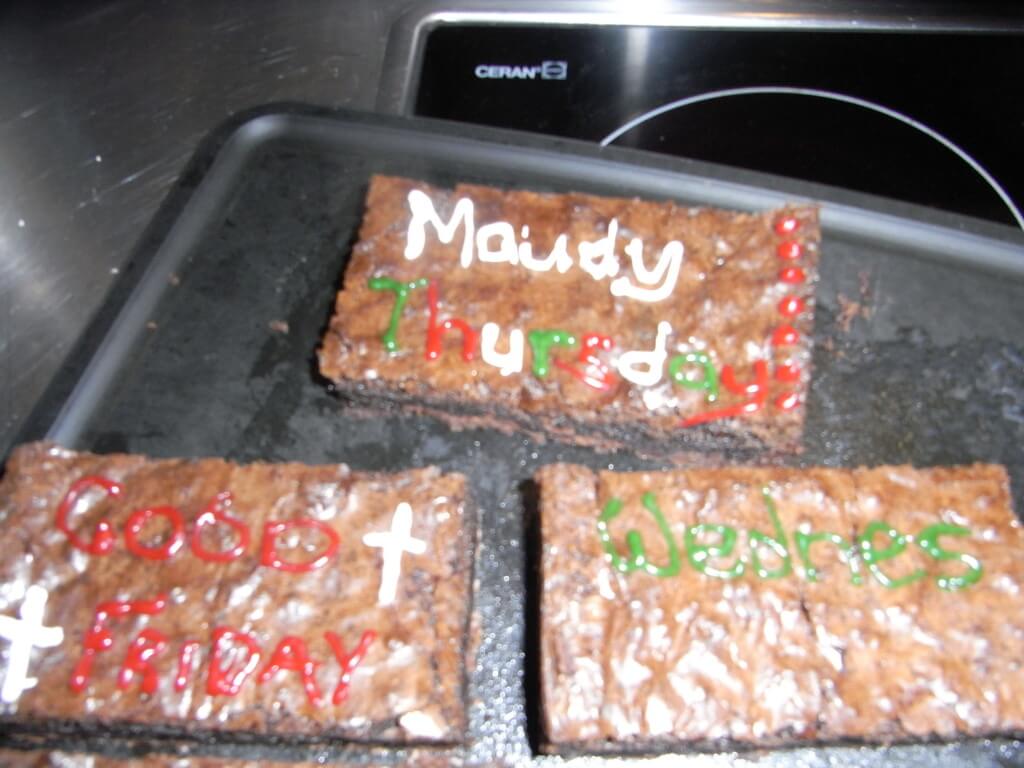 I'll give you the true recipe, and my running commentary/changes:
Ingredients
125g (unsalted) butter – I put the salted butter in, cause I like it like that :p
250g caster sugar (about 1 cup)
2 eggs
30g cocoa powder (about 1/4 cup)
40g flour – I use gluten free pre-mixed flour here, but I've also substituted almond meal and everyone's still been wow'ed
pinch of salt – see why do that? just use salted butter!
200g chocolate bits – itty bitty ones, not little coin shaped ones.  Black and Gold brand ones for the Aussies are the best in my experiementations
Method
1. Preheat that oven to 180 C and lightly spray your slice tin I use a 25cm square tin for a single mix, but a 32 x 22cm tin when I double it – which make a thicker brownie than a single mix.  I also hate to use greaseproof paper, but there are far less tears when I do.
2. Melt the butter and add caster sugar in a large mixing bowl . Why dirty up another thing? I melt the butter in a saucepan, then take it off the heat and add the sugar
3. Lightly whisk eggs in a separate bowl.  see above, I don't like to dirty up stuff when I don't have to! 
4. Add eggs to butter mixture and stir together. But don't add eggs TOO soon to the hot butter, lest you end up with scrambled eggs
5. Sift in cocoa and flour and salt and mix together. OK I go rouge here, and need a bowl to weigh these two bad boys, so I add to the washing up there.  But the bowl comes out in the final act
6. Fold in chocolate bits See you had to weigh those suckers too didn't you!
7. Pour into a prepared pan
8. Bake for 20-25 mins, leaving in a hot oven for a further 7-10 ins For the time stretched, 20 mins and whip them out in a single batch is certainly a-ok in my recent experience.  Too long in the cooling oven and you get a very chocolatey teething rusk!
9. Remove from oven to cool on rack
10. Slice when warmish otherwise there will be tears!