Christmas seems to be the time when ALL my creativity comes out!
I was inspired by Pinterest for the below, but of course I can't find the reference. Anyhow, with the BF's help, and countless clear 3M hooks, we made this: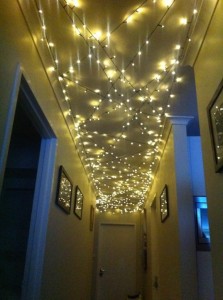 Sadly the clear adhesive with 3M hooks isn't as strong. Or the pressure on ceiling mounted hooks was too great. So our ceiling is bare again, but it will return to this festiveness, as I plan to have the hall of lights for my birthday party.
For my immediate family celebration of Christmas on Christmas Day, I tried something new: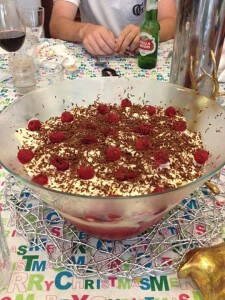 I had wanted to make a trifle for a year or two, but last year I was in Perth with the BF's family, so didn't have a chance. Mum was going to make a sticky date pudding (well, she says she was, I've known her to say that, and turn up to see all the ingredients all laid out for ME to make!)
Late on Sunday night before Christmas, this sad picture graced my Facebook page 🙁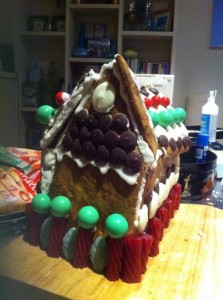 The suggested solution was to make it the Dinosaur's fault. In any case, my colleagues managed to pick the lollies off on day 1, and took the following day and a half (with SUBSTANTIAL help from me) to eat the gingerbread.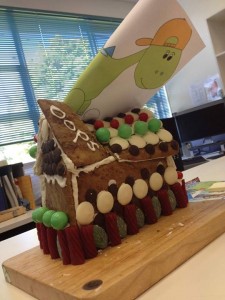 And in non-Christmas craft, I also cross stitched a baby blanket for my friend's 10 week old baby 🙂
I spent Boxing day (the day after Christmas) without clothes on, in our air conditioned bedroom, doing UAT. User Acceptance Testing is the cool way of me saying I binge watched TV programs, for a clients of my boyfriends! I watched two new series I'd never known, and thoroughly enjoyed them. And I swore off sweets, at least til my holiday, save for a square of choc each night after dinner. So far, so good.
How was your Christmas? Do you have a traditional recipe or thing you cook/make?