Just like I lived in the loft when I started this blog, let's call place 3 the lighthouse.  I'm not sure what to call place 2 – the 2 bedder?  That'll work!
So the light house, is not, in fact a light house! It is, however, VERY light.  My father suggested my last two homes had been caves! How rude! But there was some truth in
This 2 bedroom apartment has windows on both sides of the apartment, so it's great for cross breezes.  There is a corridor or hallway that exteds from the front door to the built in laundry cabinet (see the picture below), and off this, initially, is a loggia (code word for strange balcony, I'll come back to that), then the living kitchen open plan.   The corridor then closes in and you have the first bathroom, the first bedroom, then the master bedroom with the ensuite which tucks in behind that laundry cupboard.  The corridor has windows all along it, so walking out of the bedrooms you face narrow floor to ceiling windows, which has a central courtyard.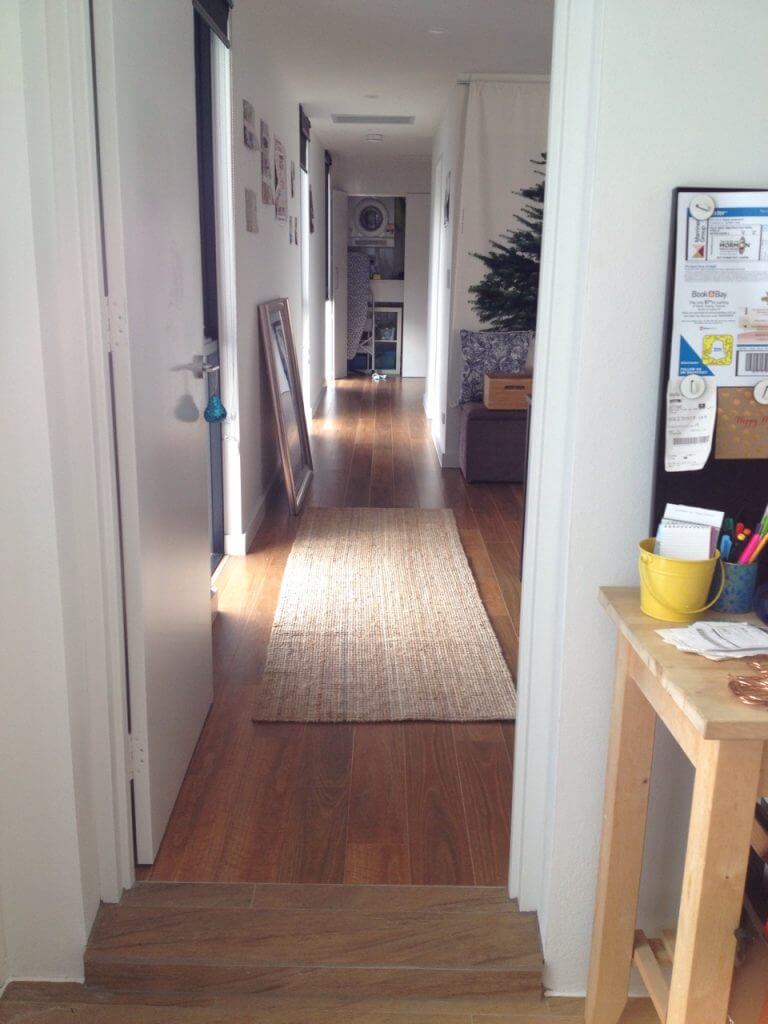 You can imagine the apartment building as a large O, with a central courtyard.  What this means is there's lots of light bouncing around all the white external walls.  It also means you get a show from all the other apartments! I can tell you the ground floor neighbours use their loggia as a study and a gym, complete with weights and foam matting.  My upstairs neighbour has an elaborate cat climbing thingie, but great ferns in other windows.  Another neighbour has found this heat means he seldom wears a shirt…  See what I mean!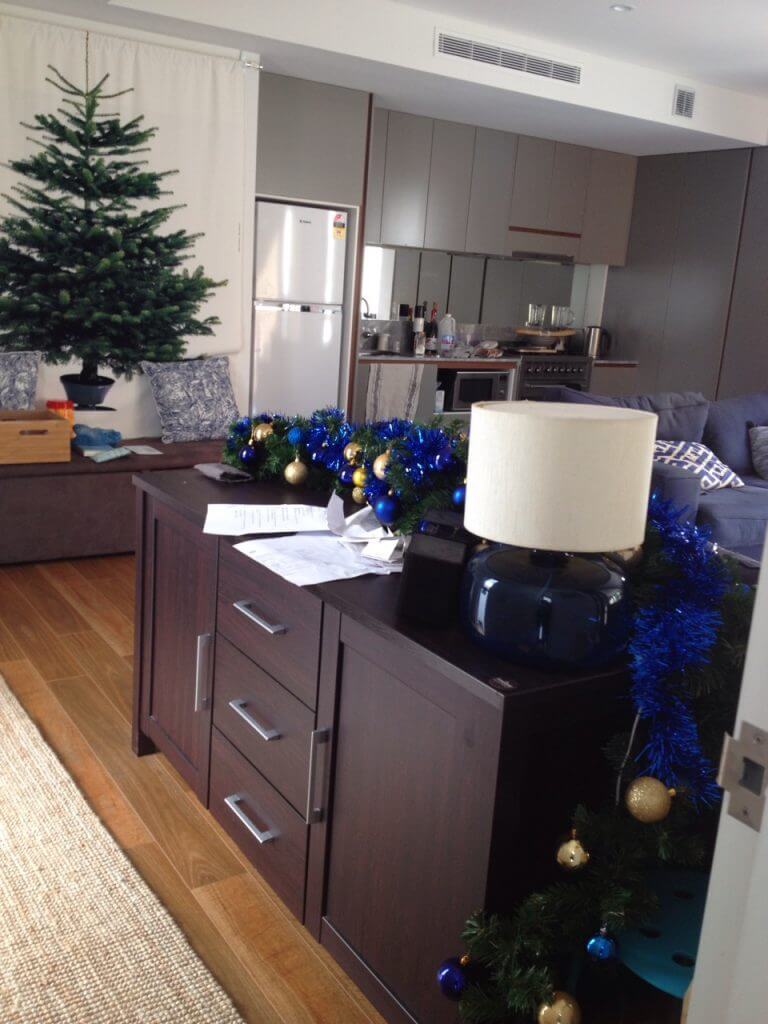 Right, so back to the this loggia.  The loggia runs the width of the apartment – from the central courtyard to the exterior building wall.  At each end is a hinged bi fold door, which are HUGE – I'd estimate at least 2m by 3m tall?  So with both open, you get a great breeze through.  All other windows in the apartment are hopper style – which is very safe for small climbing toddlers (there are none as current residents).  They aren't as great for getting air in and around the apartment, but better than nothing.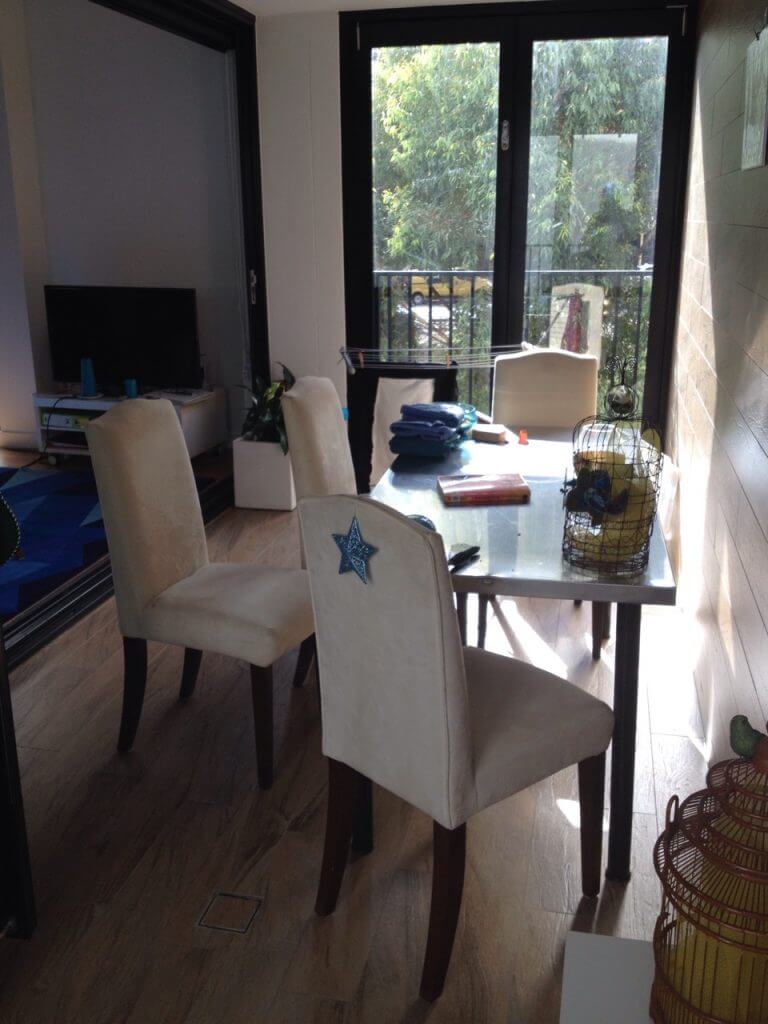 The apartment is also airconditioned – ducted through out.  Sadly, as this is clearly 'on budget' for a development, it's not zoned, so it's all on, or all off, which seems overkill when I didn't have a flatmate, or when we're sleeping.  It also doesn't have a timer.  And… for those followers on my personal Facebook, the centralised components of the air conditioning in the building has ALREADY had issues, even though the building isn't even 6 months old.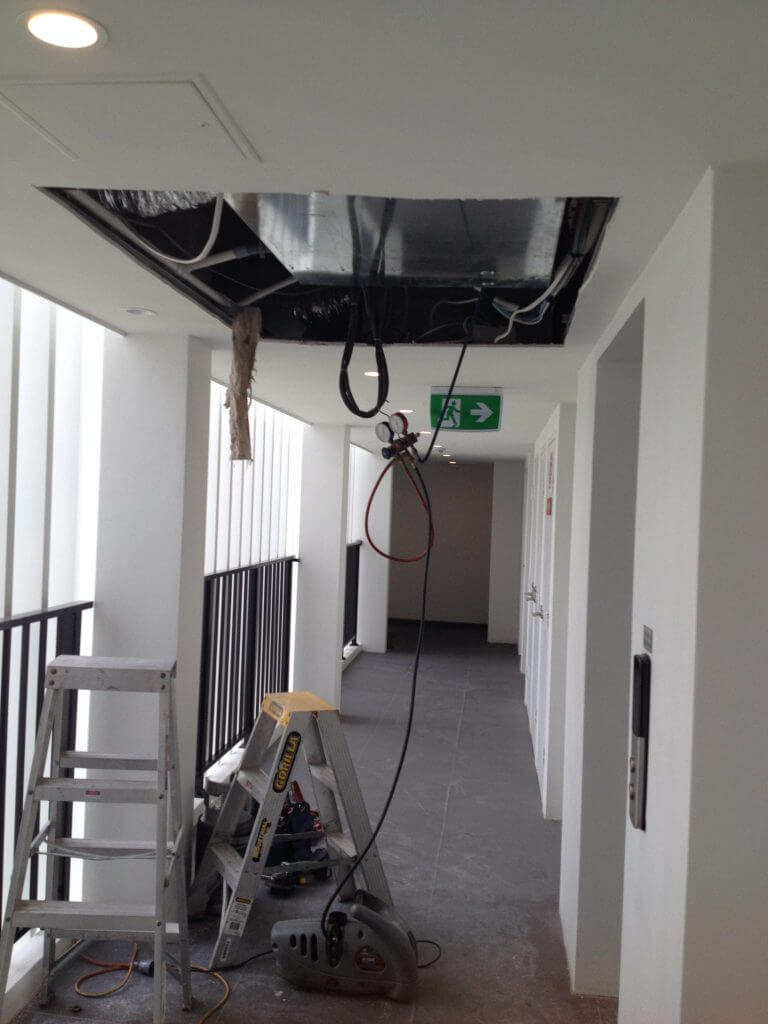 The air conditioning isn't the only sigh that there's been corners cut in this building – two 'exit' signs have fallen out of the ceiling.  I can wiggle the exterior door handle to the garage and easily get access without my keys.  I'm so pleased I've not bought the place, that's for sure.  I really think this has been built for people to buy off the plan, and largely for investors to rent out.  I might be wrong, but… well we'll see.
To there's some candid shots of my new place – I've now hung all the art, and sometimes I even clean up! Actually – I find my flatmates is tidier then me, which is a lovely blessing.