I'm delighted to report – what an awesome week. Well, there were less than awesome bits, but I'd rather reflect on the great! (thanks to Tiff at Raising Lemons)
Today, two lines on a work graph intercepted. In 12 days, we've done radical things and seen a rapid drop in a statistic we were getting hounded on. And it's all thanks to me, and an incredible team!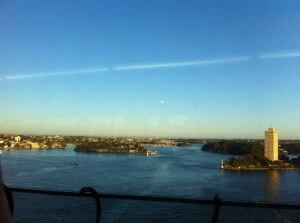 I'm running out of work to give them – I used to release a week's worth to up to 12 crews – one crew got work issued for today, and will need more again next weekend, having finished it all already! They usually get new data on Wednesdays!!
I've started calling meetings – and people come. And they listen. This still sorta shocks me, cause I rebel against meetings. I'm not rude, and I do attend, but I often go willing I didn't 'have' to!!
Today's meeting, there were actions completed by the end of the day! At this was a post lunch meeting!
Is anyone over my !!s yet? Hold on, there is likely to be more.
The BF went away overnight (the night he'd usually be teaching and home late). So I went and saw 'Wasted' a movie about trash by Jeremy Irons. It was run by a local council and free to attend. They fed us (with compostable plates). AND! They gave away keep cups. They let me customise with the ones lined up, and I got one all tricked out in blue and green, and in use this morning: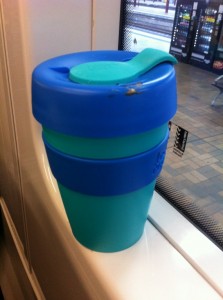 And this talk's location, there's a direct bus from it to my home. Who knew. And I caught the last service of the night home. Talk about well timed!
Tonight, I'm on the sofa til the airport pick up, indulging in my crack cocaine – garlic bread. It is DELICIOUS. So is this couch. There might even be something sugary up next. Ok, so health's not a focus right now, but that's a ok!
What went well in your week? What did you succeed at?