In contrast to my last post, I pleased to report how I've knotched things up a gear in my personal life!
I went to SES on Tuesday despite horrible weather, thankfully we were indoors and playing with power tools. My first time with a plane saw, grinder and nail gun. FUN!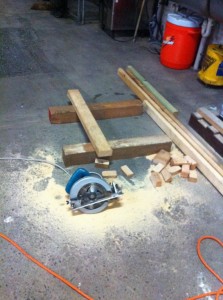 Thursday night, I ventured out in the drizzle to the new UTS building on Broadway, which happens to house the faculty I studied in. Here's a view from inside: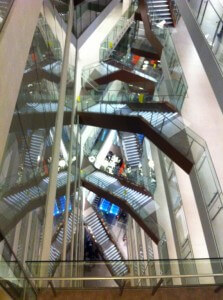 A church 'youth dinner' on Friday night – there was just one guest, but many RSVPs so at least I know it's in peoples minds
Saturday was brunch with a friend from my school years, and then walked her around our neighbourhood. It's such a pleasure to see my home and locale from someone else's point of view. She loved the diversity of new and innovative buildings as well as the older terraces. The short walk from the city, and the views of it. And lovely big trees as well
A couple of water polo friends cane around for dinner on Saturday, I attempted a pot luck but that's not really an Aussie thing. We had a huge pile of roast veggies (thanks Em), a pile of nachoes, and a self saucing chocolate pudding, plus lots of chatter as three from four of us had been overseas recently! (that ticks my goal of entertaining at home more too)
Made it to church this morning – people asked about my 'holiday' (I think they mean the past two weeks when I've chosen to sleep in perhaps?) Anyhow, I garnered two more contacts for the youth dinners, and resolved some catering dramas which I'd been remiss in doing in the past few weeks due to work. All's well that ends well cause
The tea/coffee issues at church meant I went to the local Asian IGA, and optimised my trip by buying 6 varieties of dumplings from their freezer section. The ultimate in tasty quick food for the nights where the BF and I have different schedules
I came home to hang out a load of washing, iron some work shirts whilst watching Project Runway, and then made a curtain to block the light a little better for the BF who gets up closer to 9am (!!) on weekdays! (!!)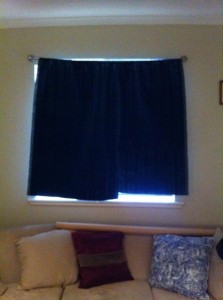 I was frustrated that one of my op shop shirt's French cuffs didn't have enough button holes to stop the cuffs from flapping. I was thinking I might get a 'mender' at the dry cleaners' to do it. Then I googled the machine I have, worked out which foot to use (helpfully stored behind the machine) and gave it a whirl. Here's the result: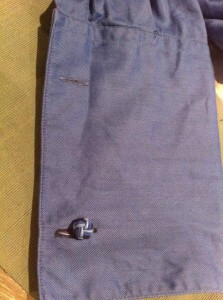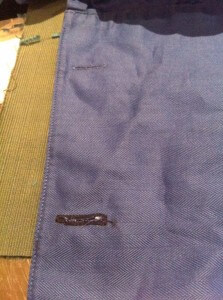 And I forgot to mention (and I think I will try to draft a quick post) but…
I finished reading the bible – one of my 12 in 2 goals!! I happened to read the last of it on the train from work to the airport to meet my brother, so it was a momentous day!
Now for the work week ahead… I have to remember to pat myself on the back more. Remember that if I was asked 'have you done everything you can to make it work' I could honestly answer yes. The results aren't solely up to me.
How was your weekend? Did you get a run on things you've otherwise been avoiding? (Yes, it would seem, I had been 'avoiding' socialisation if I'm perfectly honest!)