Today marks a week in my new role with the longer commute, which I introduced in this post. I thought I would touch base on how it's all going.
In the five day week, I worked 4 days from my new office in Hornsby, and one whole day at my previous office in Chatswood (due to some meetings). On the Monday, I started at my former office, and then packed up the car with my computer and moved.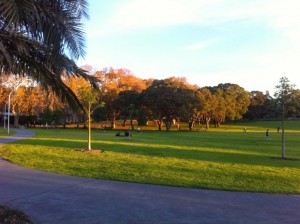 Firstly, let's talk about the cost of commuting. When the company ended our use of company cars to travel to and from home, I bought an annual ticket from the City to Chatswood, which cost $1,400 (thankfully I didn't have to pay upfront, but can get it deducted from my pay weekly). The journey is $4.60 one way usually. The trip from Central to Hornsby is $5.20. Interestingly, buying the Chatswood to Hornsby portion? $4.60. So I need to trade in my annual quick smart, so I stop essentially paying double for my travel! Plus, the daily cash handover for a ticket slows down my commute.
And for the weather report – it's been rainy, off and on, all week :s Yeah, so an interesting week to transition!
Overall, the team seems enthusiastic – most of them were either dying for work, or dying to move further North. It took me no time to settle into the new (much smaller) desk. One of my team returns from a holiday on Monday, and that will mean the one extra person in our area will be gone. I look forward to having all my 'people' around me, and not other dramas adding to the chats!!
As to essentially doubling my workload – well, yikes! My role previously hasn't been handed over to someone. I also have 5 staff to lead and support in a role that didn't previously exist (they essentially carved up the workload in Chatswood, sent some of it to Hornsby, and gave each office 5 people to work on what 7 people were doing before. Logically, that should mean we have more people doing the same work, however, it's not without hiccups.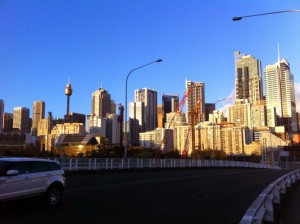 The statistics I was tracking in my prior role, well, they've seen a recent upswing. The rainy weather certainly doesn't help our cause, but it's frustrating to know numbers were looking good before my move. It has nothing to do with me, but I always take extreme ownership of things I'm responsible for. Furthermore, as a business, we're not performing well in this area, so there's been a bit of a crisis meeting called, and again, I can't help but feel defeated that all our recent measures to improve performance in our area really aren't paying sustained dividends.
As to life outside work? It doesn't really exist! I went straight from work to the SES on Tuesday. Every other day, I came home, and got into bed around 8.30pm to read and fall asleep. There's been no runs/jogging or similar, and that's not great. But my walk from the station in Hornsby to my office is hilly, and longer than my previous station to work walk, so that's got to be good for me, I'm hoping!! But my junk food intake has also been creeping, so I need to work harder to either exercising, or eating healthier.
Next week, I plan to implement the three Ps – for myself, and perhaps my team. Productivity, positivity and p… I'm working on the third 😉 Suggestions?