Another email rebadged as a post… this is my first evening with my home stay family – a mum and dad, and a son and daughter, both around 18 years old
So after another hot and sweaty day we went to the baths. Totally get nuddy baths! Insane! Obviously girls and boys are seperate but it's in a mall with bowling, restaurants, 100yen shop. There's inside baths and open air ones. Crazy. All ages too! Bulk shampoo and conditioner impressed my zero waste heart. And little did I know this introduction would be instrumental to others on my trip, when we later went to other baths. There's so much etiquette involved!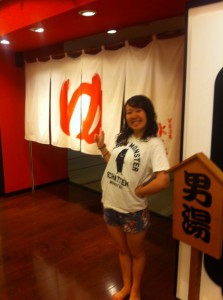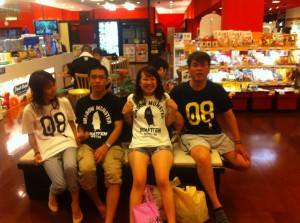 We went to a traditional tea ceremony during the day, bitter stuff but they give you a sweet pastry thing to have with it. You're meant to sit with your feet under you bum but we all struggled!! After that three if us got to wear the kimono which was amusing cause none of us were the correct dimensions!! My host sister wears a kimono as a uniform at the restaurant she works at – she's 18.
After my host family picking me up we did grocery shopping. Japan are more into milk and sweet & savory pastries than I would gave expected. Meat and most everything is packaged in tiny portions, it's amazing. Peaches are in protective foam you sometimes get spirit bottles in and plastic wrapped. Conversely you pay for plastic bags at the grocery store but not at convenience stores?! If you say no to a plastic bag you get tape put over the bar code, even in convenience store. They are big into tidiness, the 100yen shop has a bucket on the counter for your unwanted docket. Leaving the airport, there's a bin especially for printed baggage tags. Every vending machine is flanked by bins too!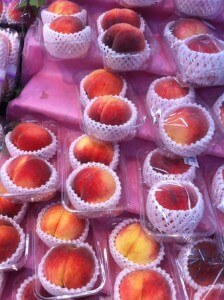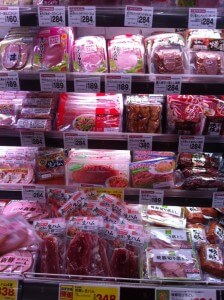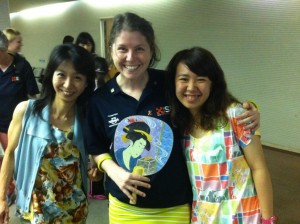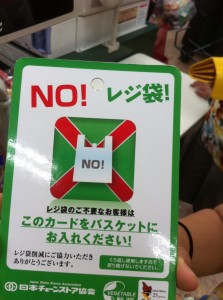 Prices seem quite reasonable, $90 for five people to have dinner, dad had beer, then baths and some drinks after. I'd love to know what the conversion rates have been in the past!
————————-