My flight to Europe was on Qatar Airways. I recall watching a documentary on a hotel TV a few years ago, about how Qatar Airways is one of the newest fleet of planes and is angling to compete with Ethiad and Emirates. Thankfully, they match them in style and service, without the popularity out of Australia that results in full planes.  Google tells me it's 23 years old, where as Emirates is 32… just like me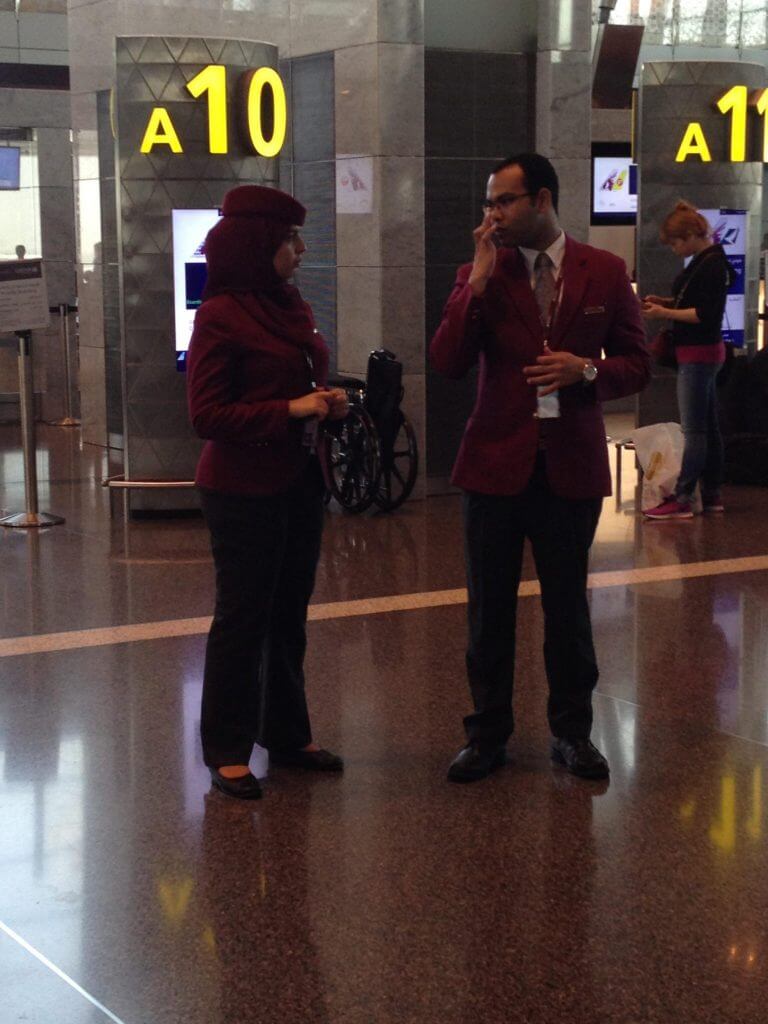 Firstly, I really like their colours – the predominant colour of check in staff uniforms is a deep burgundy. Once on board, there's a little more variety – there's a neutral light toned blouse with a motif of a horned dessert animal. I notice most, if not all, female flight attendants wear pants, which seems very forward thinking for a airline based in a more traditional society. The trousers are either navy or burgundy. Then, almost all of their staff work a navy jacket for the meal services, with a deep pleat in the back, making it quite stylish but also more movable. Overall, I feel like their uniforms run rings around Emirates, which I see as quite daggy in their odd tone of beige pin strip and a red that's a little too gaudy. I saw one set of uniforms in Sydney airport that I've never seen – which appeared to be a dark brown with purple details – I'm not sure the airline, but wow – not a colour range I'd want to have to pitch.
There were Qatar branded check in staff – this seems to be less common lately, there seems to be contracting companies. I know Qatar used one or two contractors but they were outnumbered by Qatar staff. The gate check was therefore quick and smooth with minimal lines as it was well serviced for the A380.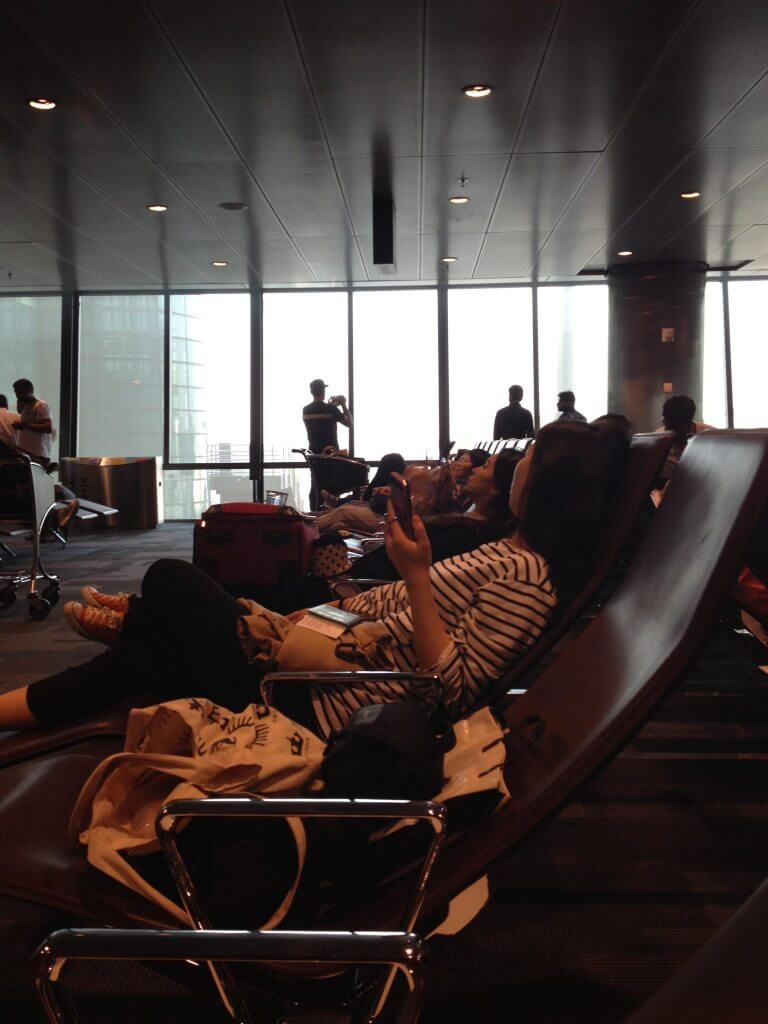 Once on board and the door closed, there's a steady stream of 'freebies' – a synthetic fabric pouch handed out to Economy passengers with socks (which always seems like a weird inclusion to me), an eye mask, a small toothbrush and toothpaste. I feel like there was one more item – I repackaged it and handed it back to the staff – there's NO way I need any further freebies of this nature! I had bought my own items – and my Emirate eye mask (which may be 4 years old and from Business Class as it's super soft). Then there's single serve sachet's of moist towelette – I feel weird about this being packaged, but then I'm probably deluded in thinking that a fabric hand towel or face washer being reused!! There's also a menu handed out – as there's two meals on such a long service.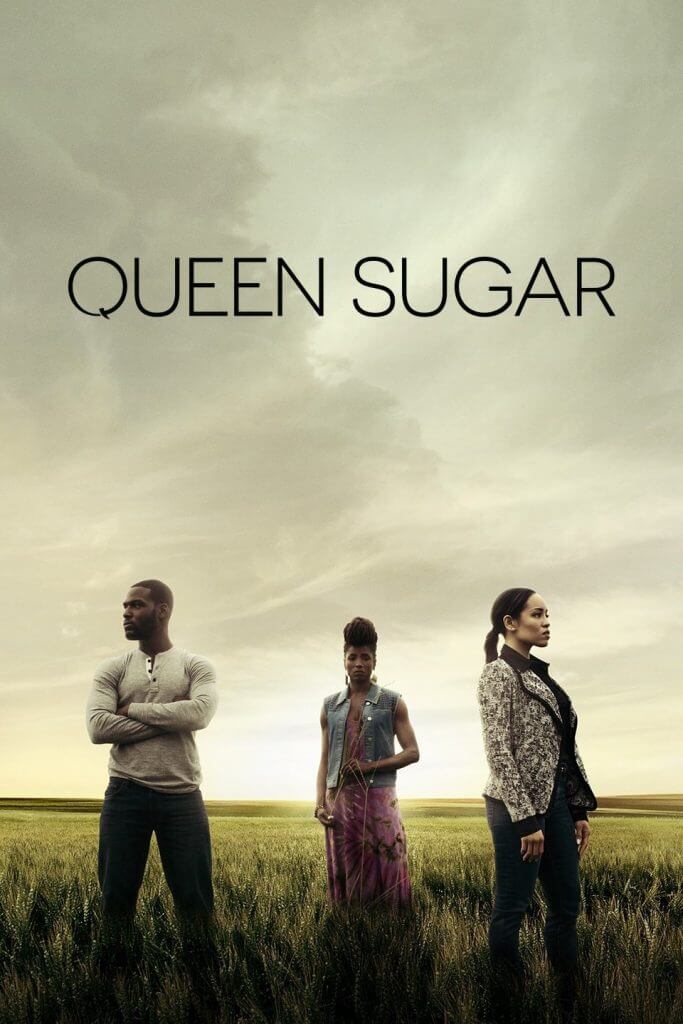 I pre-selected my seat, an aisle seat in the centre set of 4 – and the result was that I was the second person in the row – the other person at the other aisle. He was an older gentleman, whose first language wasn't easy. So after the evening meal, I used mime to suggest my feet might creep into a third seat (near his seat) but no need for him to move his overflow of gear. Interestly, many hours later, he tried to lay down in two seats (neigh on impossible!) so I mimed he could extend to three seats as I sat upright and started watching a new TV drama (and by accident watched the episodes out of order). The TV show is called Queen Sugar – it's produced by Oprah, so it speaks strongly to racial disadvantage, as well as some gendered barbs. As you can imagine, there's a collection of STRONG female leads and there are male characters, but it really does feel like they play support. So I'm high fiving to that! Overall, there were more than a handful of recent films I was keen to see, in addition to TV shows I'd not heard of but interested in. With respects to music, I didn't find anything I wanted to listen to. I suppose liking 'Triple J' is hard to articulate and translate elsewhere… I often struggle to find artists I like in the common categories or genres of music!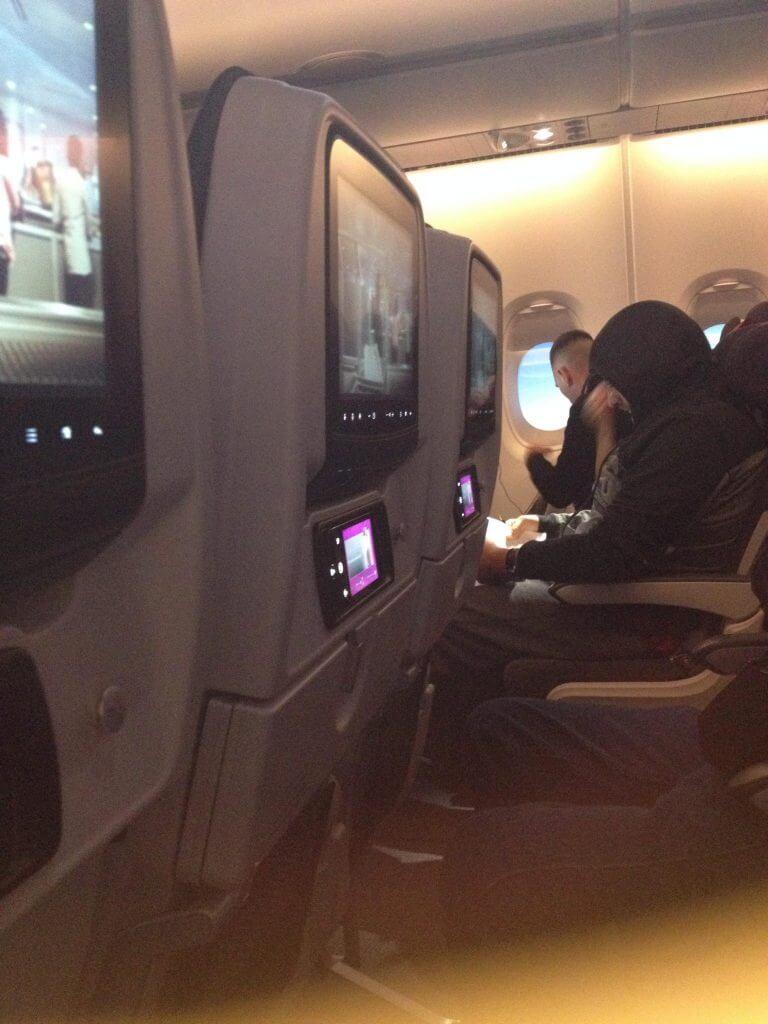 The in flight entertainment systems appear to be the most modern I've seen. It's a large flat screen with all these backlit icons which aren't full buttons. Under the screen there's the earphone port – tricky when eating and watching something. There's also a USB, so I got a phone charged. There's also another input, I'm not nerdy enough to know what it is! In addition to the main screen, there's a smaller smart phone sized screen – which pops out, which may help with gaming.
My seat was row 54, which is still relatively close to the front of the plane as the rows 'start' on the top floor. I was one row away from where BOTH food services started! Some airlines are good at reversing the service the second time, so you aren't 'last' both times. And I'd almost forgotten I'd requested Gluten Free meals. I'll admit some of it was hoping to get an early service of a special meal. Nope, still lucky last! To be honest, I know it's better for me (not eating gluten), but I'm also a little envious having seen the menu and the choices, they sounds delicious and not that gluten ridden. OK maybe the breakfast pancakes may be! In my breakfast meal, I got cling wrapped rice crackers?! I skipped them!
I've already learnt things, 15 hours into my trip. The inflight magazine mentioned that flights to the US it provides laptops to it's business class travellers. Reading between the lines, it appears that flights originating from Doha/Qatar must have a US immigrations restriction, requiring all electronics to be checked. Surely a terrorism measure? Anyhow, you can 'pick up' a laptop and use a USB to transfer your work. I can imagine as a business person that'd be little compensation – you want certain programs potentially. And you get used to the layout of your icons and keyboard etc etc. Still – interesting and innovative response to something outside their control! The airline is also offering double sized 'beds' in business class, and also a configuration for up to 4 people to be able to 'face' on another. What a punish to travel with 3 colleagues AND need to work on the flight, in my opinion!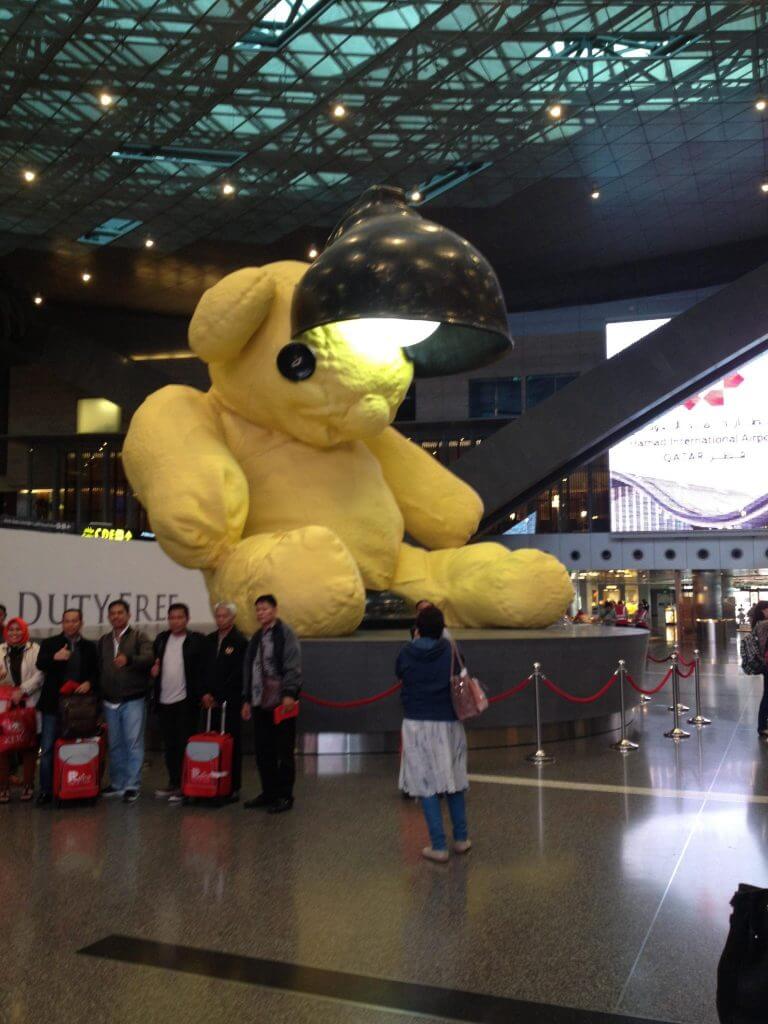 Overall, I'm pleased to try a new airline, and see what features it offers. I'm incredibly pleased that the flight is probably half full as this really helps me sleep! The plane and facilities are modern. The meals seem great, so I might adjust my order preferences and be 'normal' once again!! And… I also chose Qatar Airways on price. It was $1300 for a Europe return trip – into one port out of another. It is the shoulder season, being May, but it's possibly the cheapest Europe fare I've ever paid (and I've… been to Europe a little too often for a 32 year old who doesn't travel for work!)
Oh, and yes, I packed the laptop, and less than 24hrs in, I'm thankful I did.  It's not been too heavy.  Still has battery life after drafting this post on the plane, and posting in airport wifi.