In February this year, I set 12 goals I wanted to achieve in two years, called 12 in 2.  Number 11 was to run a half marathon, which is 21kms.  Naturally, as a non runner, this is a huge stretch of a goal but something I put on the list to as the ultimate challenge.  When I say non-runner, I mean I devised ways to get out of high school cross country, despite being otherwise a capable and fit athlete!  Warm up jogs at boot camp or school sport had me whinging (and panting) the loudest.  However, this past Sunday, I completed the 9km Bridge Run over the iconic Sydney Harbour Bridge, as a stepping stone to the half marathon.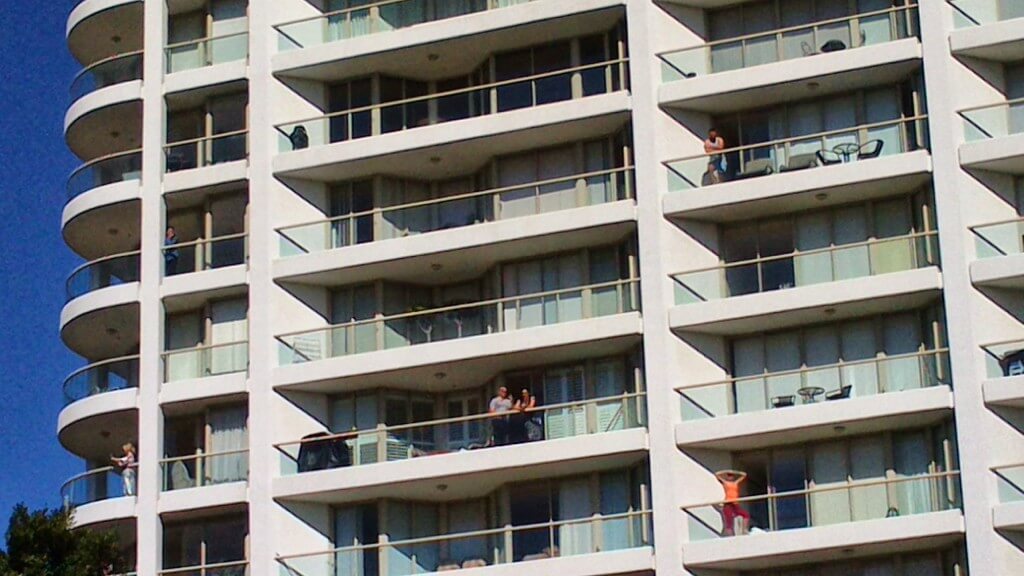 The 9km bridge run (5.6 miles) was the last race of the day, starting after the marathon, half marathon and family fun run (4kms) for the Blackmore's Sydney Running Festival.  So it was a sunny warm day for the 9am start at Milson's Point.  I was in group C, which run third/last of the groups, due to us having expected run times of 1hr or over.  The cutout off it 90 minutes <- I was pretty confident I wouldn't get cut off, but your never know!
I can't help myself, and took heaps of photos before the start, to share with you: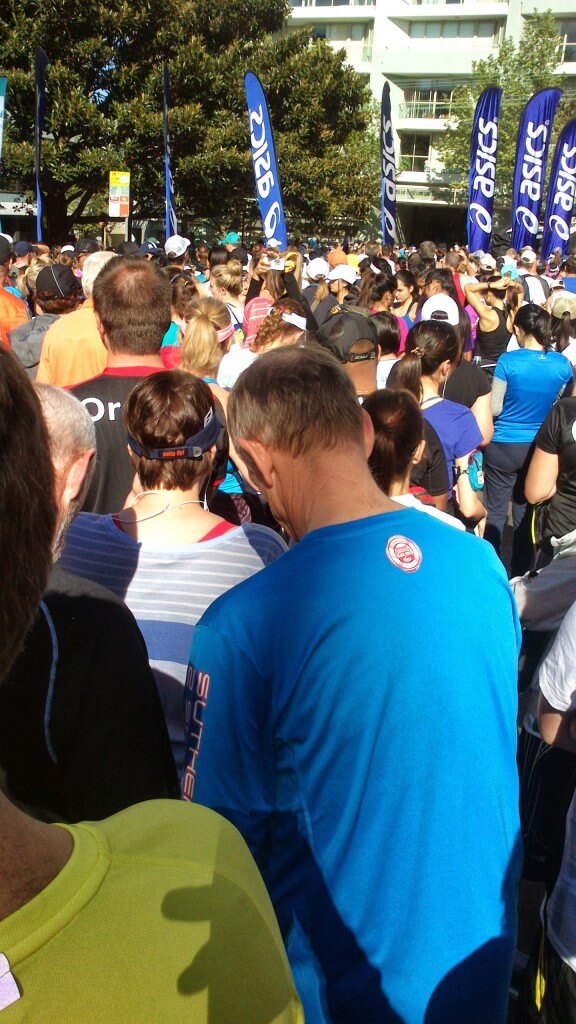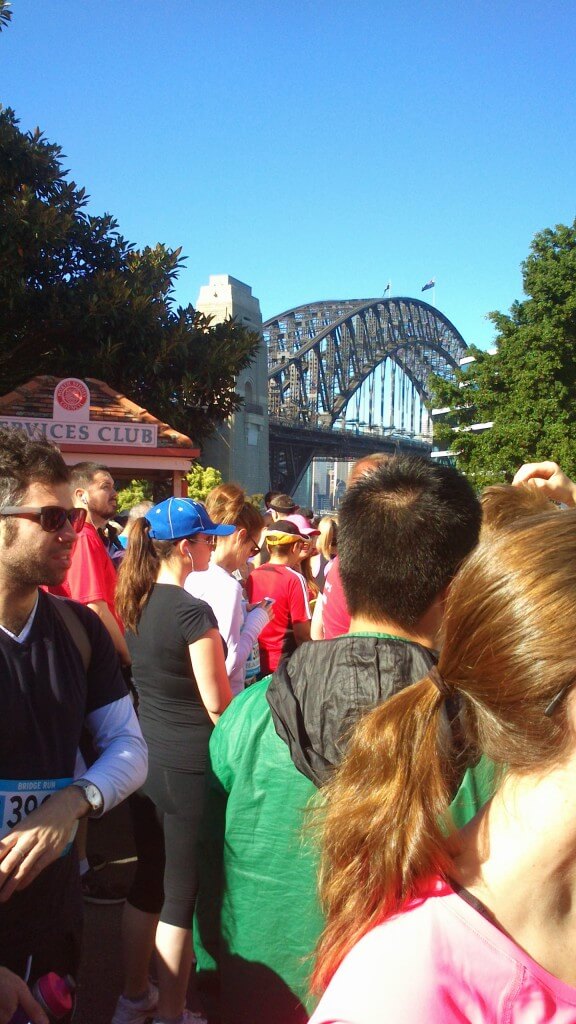 How'd I go?
I set myself a target pace of 9kms per hour, hoping to finish in an hour of starting (I actually started at about 9.23am).  I had Runkeeper going, along with some music.  When I usually 'run' I actually do jogs interspersed with walking, and still achieve this 9kmh so I was happy to pace myself to this.
The first kilometer was hard, and I always find the start of a run the worst!  There was also a gentle but continuous incline to get onto the bridge as well.  It was exciting to be on the bridge though! I drive on it twice a day to get to and from work, and here I was, running on it when it was completely devoid of cars.  There was definitely a smug smile through the running pain! I remember I didn't make the first kilometer without a walking stretch.  Still, Runkeeper kept me up to date every 5 minutes with my pacing, and I think only one interval over the whole run was I behind!
Our course had us do all sorts of strange things to someone accustomed to Sydney roads – we went the 'wrong way' down a spiral ramp onto the Cahill expressway, which took us running over the train line at Circular Quay.  If I'd been more about blogging than running, I might have photographed the sparkling harbour, and iconic bridge and Opera House, but by this stage, I was in the thick of the 'running' and not so worried about a play by play for my readers!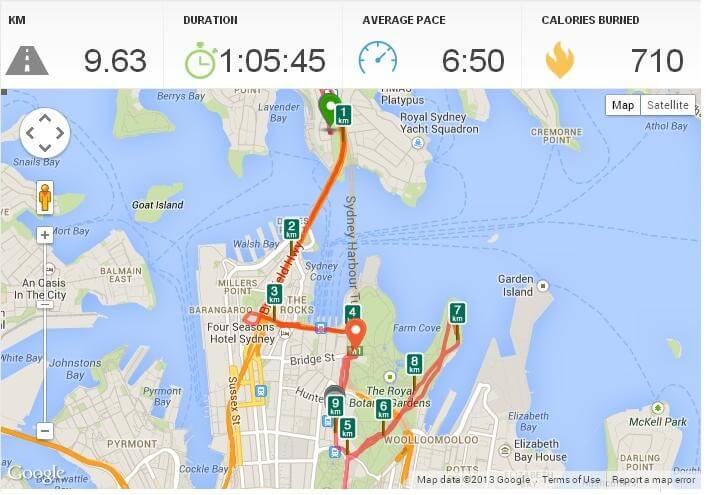 Prior to this run, I'd only done a training run at 6km. That run was more than two weeks prior to the Bridge Run, and in the meantime, I'd been through a cold. So, part of me wasn't entirely confident in how I'd run! I used positive self talk to help – instead of 'you've never run more than 6kms', I'd say 'wow, you've got 3kms to go, you can easily do that'. It made a big difference!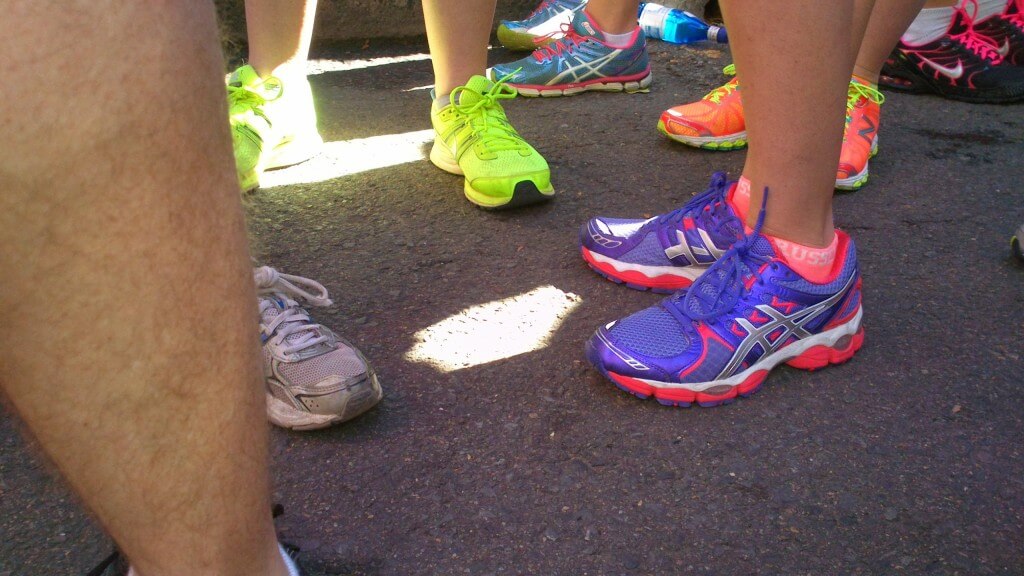 According to Runkeeper (I love their stats), I was above 9kms per hour for the first 4kms, which probably helped me stay ahead in pacing for the second 'half' of the race. Interestingly, the peaks in the coure are around the 4.5-5km mark and again in the last km! As far as speed, at my fastest I was doing 12.32kmph (I must check where it thinks I ran that fast!), and at the slowest, in my last km, was at 7.77kmph. Overall, I ran at 8.79kmph, for a total distance of 9.63kms (They say the course is 'about' 9km). This took me 1 hr and 5 minutes. This puts me right on pace, even though I didn't meet my 1hr ambitious finish goal. Overall, I'm happy I made it to the end without an injury (even my shin splint like pain was silent), though I did have tight hamstrings before and after.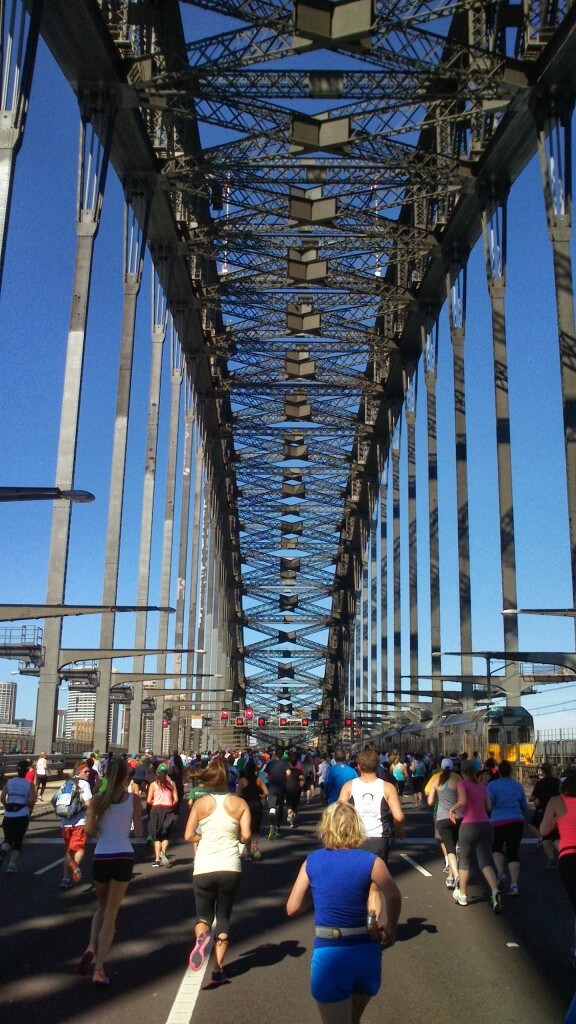 At the end of the race, I made my own way home. There was just swarms of people at the finish, so I can't imagine if the BF had made it in, even trying to find him! Then getting to the train was a little bit of a logistical challenge – I ended up crossing the marathon runners path twice! Thankfully, Sydney smartly provides free public transport for all run participants, so being lazy, I got the train, then a bus (cause just a train involved more walking to get home!). The bf was at home after spending the last 24 hours on a yacht race, and we headed out for burgers. I then thought I was entitled to anything I wanted, being that I burned 710 calories! Alas, I still coped some cheek when a block or two of chocolate ended up in the shopping trolley! (For the record, I've not yet had any!)
So, in a rousing finale: anything is possible when you set your mind to it!  Practice makes the world of difference, and having people overtake you is often enough to stumble from walking to jogging again.  Now for a training plan to get me to a half marathon! (My brother's time was 2hr02minutes for his half – impressive!)
Gratitude (for Sunday)
I finished the race, without an injury!
A beautiful warm day
The BF's patience in traffic, during run road closures
The Newsroom finale (and finding out it's signed for a new season!)
Mac and cheese made by the BF
For being somewhat relaxed with the state of the less than perfect house
What ambitious goals have you set yourself?  Have you surprised yourself in what you can achieve?