I recall thinking I liked moving.  I think I liked having things organised into boxes perhaps?  But I decidedly do NOT like moving.  Not this time!  I've moved into my parents home, as in two months time they'll head overseas for a school year, and I'll house sit.  It'll be great to live in a house, with a garden and a pool and a delightful dog.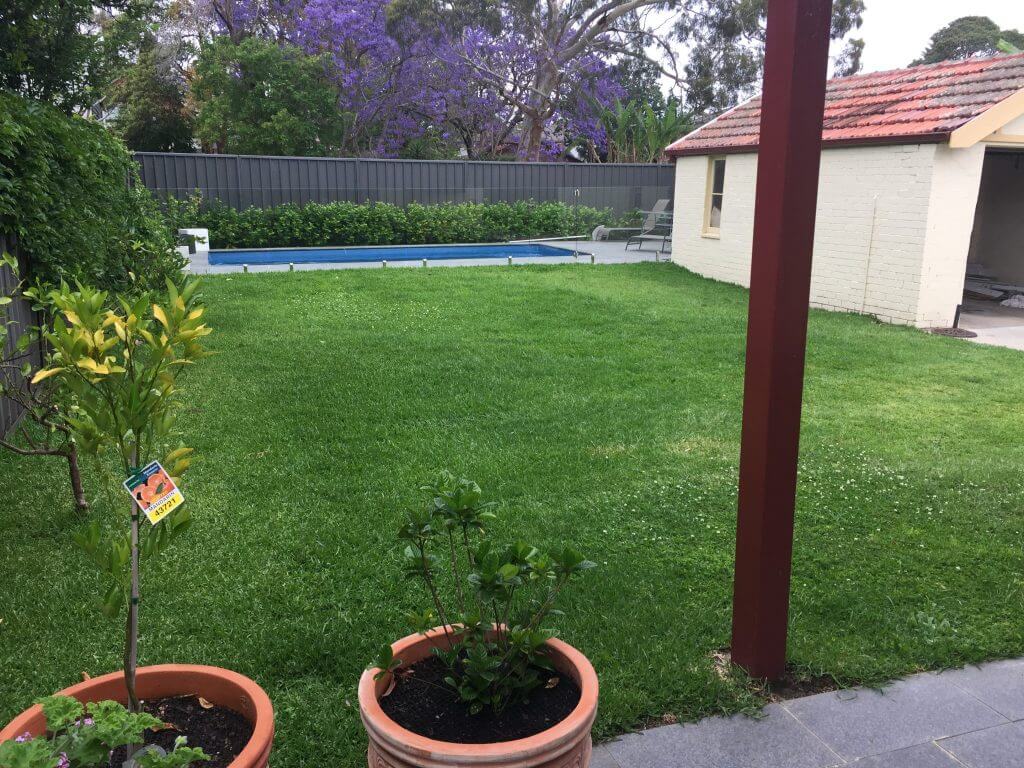 I'm dealing with the crunch of my household of stuff into an existing household of stuff!
Let's look at the positives
No whitegoods.  The 'light house' came with a fridge and a washing machine, which aren't usually included in rentals in Australia.  I did move into that home with a washing machine which I subsequently sold to a guy I dated a handful of times
One less sofa: I visited a friend recently who'd moved into a new home.  His floor plan could easily do with another sofa – given there was one two seater and I was there for a six person dinner party.  He and his flatmate agreed to a year long loan, and came and collected the bigger of the sofas the day before the move!
Sold second hand items again: I sold some items, all of which I identified as not 'love' and 'long term' items.  All were Ikea.  They were

stainless steel dining room table
Kallax four box storage cubby I used in the laundry and bought just for the light house
TV cabinet I bought for $25 and sold for $40 + $40 for delivery.  Profiteering right there!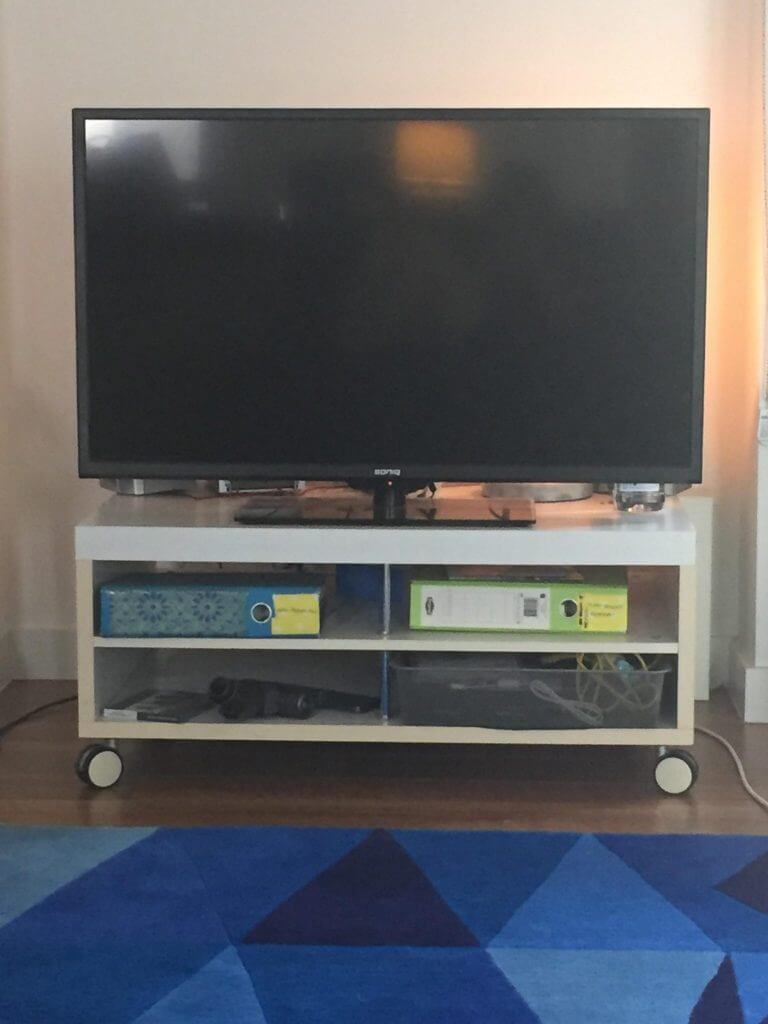 Clothing rationalised: I went through my wardrobe and donated items I moved a year ago and hadn't worn.  Yep, two pairs of jeans that continued unworn.  A jacket I kept ear marking to replace, and when I didn't wear it all this year… out it went.
Food pantry: I donated my handful of canned goods to the refugee collection my church runs
Things that I am yet to work out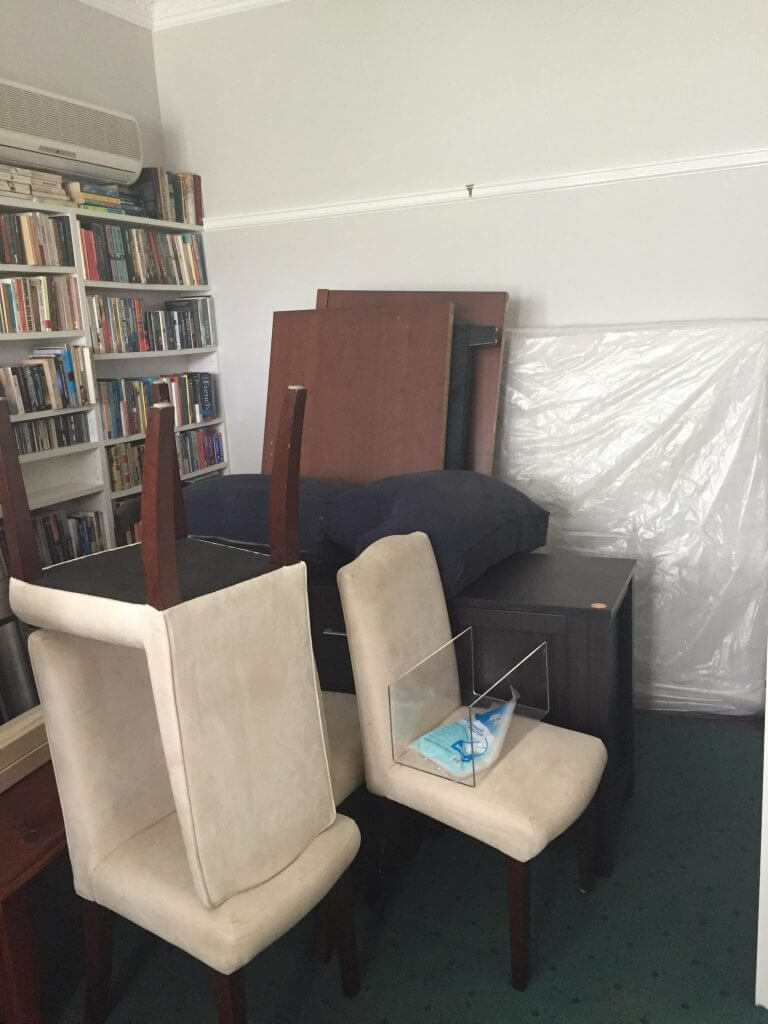 Clothing chaos: when I last lived at home, more than 6 years ago, I owned a wardrobe.  I sold it when I moved to the loft which had built ins, and the subsequent two homes had built ins.  Now I'm back and in a 'not really' bedroom, so no built ins.  And the bedrooms with built ins have occupants and are FULL.  I also need somewhere for smalls, and folded items.  A puzzle still to resolve right there.
My functionless furniture:

A wooden trolley: which houses a small wine rack – no need in my bedroom!
A coffee table: at least the wood tones match the fireplace tones
Shoe rack: again, there just seems no logical place to put this!
Buffet: was my entry 'landing strip' where I also store things like hardware, handbags, sewing kit – you know, things people need!
Six upholstered chairs: from my dining table which is gone. update: the friend who took a couch also took these chairs.  He's worth his weight in gold!

My parents existing furniture in my room (whilst my parents are still home)

Glass fronted book case
Antique dining table… and there's a dozen chairs I think, scattered now throughout the house.  Of course, we also have a kitchen table with modern chairs
Piano

Art: I have so much art.  And it's genetic – so do my parents!!  Thankfully most of the house has picture rails, so it's not a hue struggle to put it up.  Of course, I like to ensure art sort of matches in theme or framing.  At least a large home has a stack of walls
Even two weeks later, there's still more work to be done!