I know most of my (known) readers are married, so it brings me to a question: how does it feel knowing you will never (or should never) romantically fall in love again?
The recent Father's Day PostSecret post started me on these thoughts, here's an example: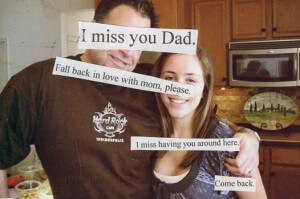 It's not Father's Day in Australia, we celebrate that in September.  However the above secret seems somewhat perverse to me.  To me, once you're married, that's it.  You make it work.  I strongly feel divorce is the last resort, and love is something to be worked on.  It's not to say I think divorce shouldn't exist – there are many situations where I think it is suitable.
I don't miss my Dad (other than him being in Tahiti with my mother for three weeks!) cause he is a great dad.  And my mother and father are committed to their warts and all relationship, for that I am SURE!
I know, though, that I fall in love insanely often.  One year I counted at least five men I was romantically fixated on.  And this was as recent as before the current BF.  This wasn't as a teenager.  If anything, I was hooked on one guy for longer then!  Is a fixation different to love – for sure! Is that insane level of curiosity and the desire to know more about them and spend more time with them the foundation of a relationship – most definitely.
One thing I wish, dream and pray for is to have a marriage as long, happy and stable as my parents.  It's the only way strong families can be built, from a strong foundation in the two parents. But gosh darn do I worry about my ability to become attracted to someone else.
And of course there's this: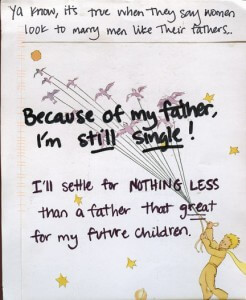 How high is TOO high to set your standards on your life partner?  At church today, I spoke about this with a woman who's husband passed away a year ago and she has daughters approaching their 40s.  Both her daughters married in their late fourties, one has children, one is still trying.  We spoke frankly – the good fortune of one to have children.  Of her long and happy marriage.  She confided that she mourned not so much the passing of her husband, but the passing of the idea of what he might have been! She said, he was wonderful to offer to make her a hot drink countless times a day (and now she seldom makes them herself without him).  But how she *still* wishes he had looked her in the eye more and said 'I love you' or 'You don't seem happy today'.
And this rocked me – here's a woman who spent most of her life happily married to a man whom she admits she loved, and mourns but still wonders what could have been.  How he could have been better?  And whilst she didn't say it, I felt there was a thought 'if I'd been married to someone else'.  I asked her "What's too much of a compromise?  What do you live with, so that you can have children and have a family?".  There will always be times of doubts in relationships, surely…?
Presently, my BF is well aware of my most recent crush.  I feel that at least being honest, open and transparent I can help work through this.  Thankfully, the BF is not the jealous or non trusting type.  I feel like sometimes the 'secret' that comes from affairs is half the fun – the sneaking around, the hiding.  However, it IS unsettling to love your current partner, and to find yourself interested in someone else. Odd though it may be, perhaps it's not all that uncommon.  How do you make these fleeting interests outside your primary partnership short lived and not destructive?
So many big questions – your wisdom and experience welcomed.