For the last 8 days, none of your sneaky internet people broke into my house and stole my laptop with a broken hinge OR my favourite blue glasses.  Thankful, really I am, cause you know, the internet these days, anything could happen whilst a gal and a guy are in Phuket, Thailand!
So we flew Air Asia X.  This is the same low cost carrier we used to fly to Ho Chi Minh City, Vietnam last year.  Thankfully, since then they've upgraded for a cattle shed terminal in Kuala Lumpur to the world's most elaborate low cost carrier terminal.  This thing is seriously ginormous, and connected by a super high walkway so planes can slip underneath.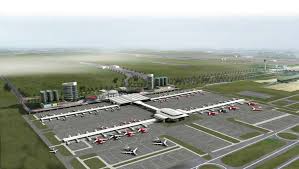 The Good?
We didn't miss out KL connection like when we went to Vietnam. I'm not sure I ever mentioned that 😉
Crossing off bucket list items like a keen adventurer: Zorbing, white water rafting, ziplining and ATV riding!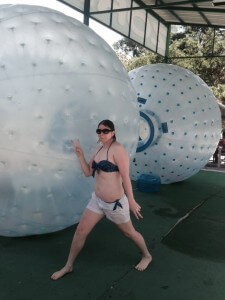 Having countless mojitos, the odd pina colada and even a Brandy Alexander to mix things up.  Even better was finding somewhere that did them for 100THB, or AUD$4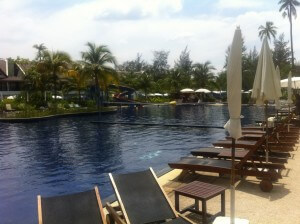 I did NOT get sunburnt.  I got a little pink on the shoulders on day after a long pool session of Connect 4, but it didn't linger or peel!
Beating the BF occasionally at Connect 4.  This is a guy with 9 poker hands/screens on his laptop as I write this, he's a demon on counting cards too – and so a simple game like connect 4? Genius!  Til I beat hi 😀
Many massages, and the most 'luxurious' one at a true spa?  Just AUD$60! I took all the photos, so I can see a whole post coming on!
Packing awesome sunscreen, that both worked, and never felt oily once applied.  I never believe the marketing sctick, but this was TRUE!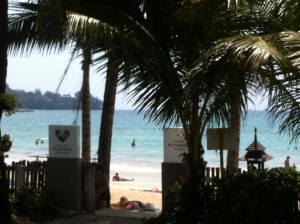 Our hotel had free wifi in the lobbies and the restaurant, but you had to pay more to have it in the room.  I post this as a 'good' cause we're both likely to go down the rabbit hole of internet-nerdage, so it meant we had to plan our online time, and it was usually with less air conditioning, so it was a real balance of priorities!!
The Bad?
It was sweltering heat most of the time we were there – in the high 30s with high humidity.  I'll admit, the lure of 20C in the air conditioning often won out, as did the National Geographic channel, BBC World News and two French channels.  The BF often had more sun lounger time, which I would optimise by watching French TV, often with no "sous-titres".  Yay me!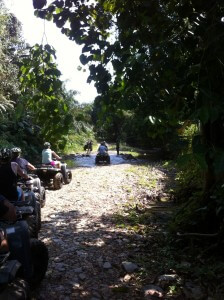 I know I'm an adventure activity fiend, but I was TERRIFIED of ATV riding.  Why?  Well a broken shoulder many years agos from a scooter accident still gives me grief.  And a friend broke a collar bone ATV riding at a buck's night.  And then there's the perpetual fear of horrendous sun burn (yep, one year I got it so good, I couldn't stand for the pain of burnt thighs for about a week!). After being one not-so-cool-cucumber after our laps of the yard alone on ATVs, one of the three guides 'passengered' me, and I was right behind the first guide.  This meant I got every instruction and tuition on accelerating and braking.  In the end, I became confident and had no trouble.  I especially loved the nearby guide, who told me all about the plants we rode past.  I'm a fiend for that info, so I'll share it with you
rubber plantations – these are EVERYWHERE! They get sapped at night, or at least cut, in diagonal lines, and they work down a face of a tree, and then change faces, year on year etc.  We even drove past the village collection point for rubber/latex, and rode past many trucks to collect it.  It collects in little coconut half shells, or plastic pots.
pineapple – as it takes rubber trees seven years to mature, and have a thick canopy, the intermediate seven years allows for other crops to be planted.  Pineapple was one of them.  Did you know that pineapples grow about of the spikey leaves?  I thought, as a Sunshine State girl, everyone knew this – not so!
ginger – I recognise ginger plants as they often have similar species for flower growing purposes, and with lots of floristry experience, I know them.
bananas – we had banana trees within our hotel/resort.  Tiny, petite little bananas, not like the ones you buy in grocery stores here.  They were also inter planted with the rubber.
papaya or pawpaw – there is no fruit I could dislike more (see other foods I dislike) but alas it grows, though not in huge quantities like bananas or rubber.
palm oil palms – these are large, thick trunked, squat trees that offer immense shade.  The BF told me that Malaysia had a financial incentive to make palm oil and they generated more than the world's demand! Thankfully, Thailand isn't so oversaturated.
Weirdly, Thailand also serves a lot of water melon and dragon fruit and we didn't see that growing!?  For those in the northern hemisphere, you may never have seen such a cool looking fruit as dragon fruit (which google taught me is also called Pitaya!)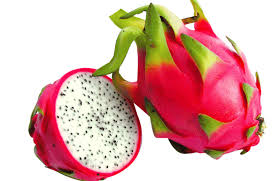 Every restaurant had free wifi – so whilst it was good it wasn't in our room, it did interrupt dinner times! That being said, some of them wanted a pint of your blood for access – like your ID document numbers!? Sometimes I just CBF'ed! I did READ all your blog posts, but I struggle to comment with a smart phone, so that's how the rest of my Sunday might proceed 😉
OK, not really 'bad', but I bought a handbag AND stuffed up the conversion rate :s It was still reasonably priced, and I love it, used it on the way home. But, consumer!! I also bought a dress the BF liked and a $3 lime elephant key ring after a few cocktails. Oh and a pair of loved shorts copied with my own fabric ($20!!!)
The Ugly
Well let's just say my ballooning weight was tipping the lower end of the scales of women's weight in our resort!  It appears our hotel appealed to the Thomas Cook and similar tour companies, who likely fill charter planes and then deposit the whole load at our resort.  Many people had 'full board' which is something I could hardly fathom doing for a whole week – it's like choosing to return to boarding school!  Anyhow, there were some clinically obese and overweight people there, and largely (ha!) women.  Not that one of them shied away from bikinis – they were EVERYWHERE.
Speaking of weight, I must set a plan in place and follow it, as I've weighed myself since the holiday indulgences, and the scales don't like/lie! Cough…
Well there's the first pass of a sleepy (night budget flight) intrepid traveller…