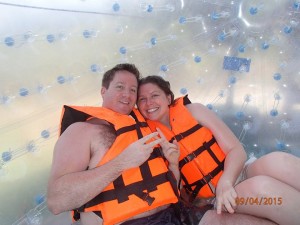 At long last, after posting about my 12 in 2 goals here, here and here, and then finding out that the Gold Coast, QLD, Australia, closed down their zorbing, this looked like a goals I might just never get done!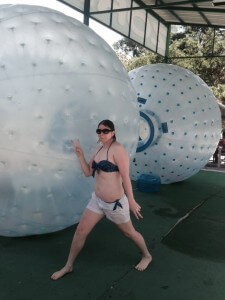 Alas, Phuket has what they call 'Roller Ball' which is zorbing – putting fully grown human in inflated balls and rolling them down a hill. Being Phuket, I naturally went with water inside the ball (I can't imagine doing it without the sloshing water to help move me and the BF around.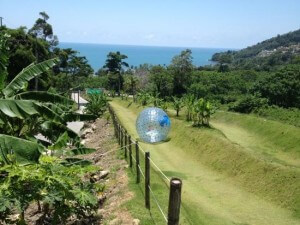 Verdict? AWESOME!
It was over quickly, and it was pricey for the duration, but not the $110 I'd estimated to do in Australia originally. I think it was about $40 each if I remember correctly? As often is the case, it also came with a 'free' t shirt in orange. I declined. They were confused. I didn't take it, nonetheless.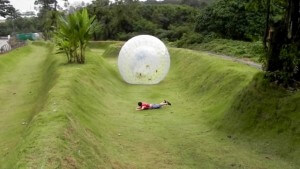 I laughed the whole way down – and we were on a crooked track not the straight one, which you can see above, and I think that made it more fun too!
So a quick run down of the 12 in 2
I did everything (still learning to surf, two lessons down and one to go) except: prepay my funeral, visit my friend in New Zealand (she moved back to Oz) and go on a silent retreat.  But I did start to meditate, so that's a step towards the last one.  Nice work.  Time for another 12 in 2, you think?