I feel a little uncomfortable posting about my holiday, and that's because my highlights weren't particularly culturally unique to Vietnam, but about the luxuries I enjoyed. We spent some nights in Ho Chi Minh city (or Saigon) and a number of nights at the beach side town of Nha Trang. The weather was incredibly warm and steamy – at least 30 C (or about 90 F) daily with high humidity. It really made being out and about a tiring and sweaty business. That being said, we strolled around a lot and saw as much of 'normal life' as possible.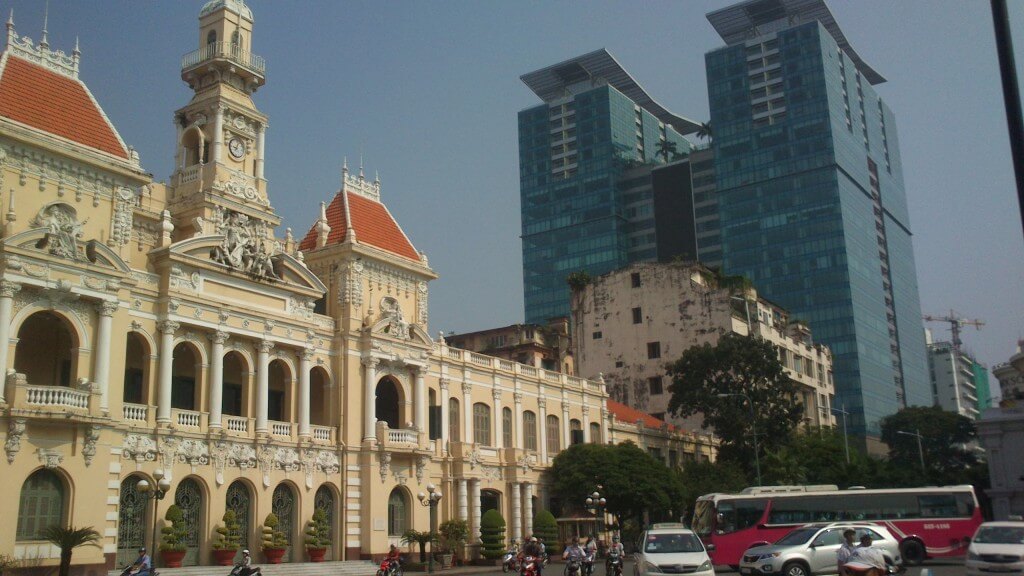 Let me start by saying that I usually travel with my parents/immediate family or alone. When I travel with my parents, they cover all the costs, so we usually stay in cheaper hotels. When I travel alone, I usually stay in hostels where that's normal (ie Europe and Northern America) or in cheap hotels in the Middle East and Asia. That being said, in my recent few independent trips, I've created my own tradition of a 'night of luxury' usually on my return leg, where I stay somewhere fancy, and enjoy the modern comforts of a private shower, and a big bed rather than a bunk! So I've spent a night in Abu Dhabi's Hilton, and a night in the Bahamas Sheraton. Both nights were an amazing rest and a great end to a holiday! I felt clean, even if all my clothes weren't!!
Travelling with the BF, well let me tell you, it was a new experience for us both. The BF's only travelled for sailing competitions in Australia and South East Asia, and as such, was often sponsored by the boat owner. He stayed where he was put up. So, this being our first international trip together, the expectations were to be discovered.
My one 'thing' was that I wanted a hotel with a nice bathroom – ideally not dated, or growing mould in the silicon (as you know, I dislike even discolour silicon and had two attempts to fix it in the loft!). Thankfully, both places we stayed have certainly met, if not exceeded my expectations in bathrooms! It certainly has helped that the cost of things in Vietnam is far cheaper than in Australia. When we compared the costs of the two hotels we stayed in, they were cheaper than nights we've paid for in Brisbane, the Gold Coast and Orange. I have no idea what my stay cost at The Holiday Inn in Melbourne, as I was kindly put up by the conference company. The other thing is, whilst we pool finances (and used our 'team account' for some dinners out, and some accommodation costs), we both see the room rate at half of the listed price, essentially our 'part' in the price.
That was my long winded justification of our week long lap of luxury!!
I thoroughly enjoyed staying four nights in the Sheraton. There was the world's biggest king sized bed, with a snow white fluffy doona to combat the 19.5 C temperature the air conditioning constantly pumped out. There was BBC World and CNN on the TV along with endless repeats of Amazing Race, and interesting Discovery Channel shows. There was even French cartoons, Russian news in English (that was a revelation) and an Australian channel. I spent many an hour horizontal, between reading the novels I bought with me, watching TV and napping. I think the BF was surprised at just how chilled out I can be!
We enjoy the pool – with views of the bay. Although the winds whipped up at time, making it positively cold, it was great to laze around in a modern pool setting. You only needed to raise the flag and a man would come running to take your order from the menu, which was kindly floatable! Seriously, it was behind a plastic cover, but it was essentially a kick board!
There was also a beach right across the road from the Sheraton in Nha Trang. The traffic is pretty constant, though worse at night than during the day. We visited one evening, and again the morning of our departure to have a proper swim. Interesting, the Sheraton (and the neighbouring (not so) Luxury Hotel) offer staff to assist in crossing the road at the pedestrian crossing! Complete with a Sheraton bat they usher you to the middle, and then across to the other side. Once on the sand, if you're lucky you can score a lounge, but nonetheless there's a supply of fresh towels. Again, the kick board menu is available – although I'm disappointed I didn't see the main road dash to get the food to the beach!!
To fully appreciate the luxury, I enjoy room service – we ordered two coffees, which were potently strong! Then we got waffles and banana pancakes. Sadly, there was just not enough maple syrup (see I do my Canadian readers proud, I hope!), but they were delicious all the same. I did feel like a princess! And all for less than $20, which seems close to reasonable, compared to what it would cost for room service in Sydney.
The last morning of our stay, we enjoyed the buffet breakfast, which wasn't included in our room rate, as it was about $20 per person. Let me assure, there was nothing lacking from the buffet! There was Vietnamese soup, a salad bar, cold meats and cheese. Say nothing of the omelette making man, who would also do eggs any way you wanted. There were reading made waffles, pancakes, crepes and mini French toasts, but of course the man would make you a fresh crepe! There was croissants, bagels and doughnuts. This doesn't even go into all the condiments, and fruit, and juices. Let's just say, Droptober was well and truly over come November 1 when I consumed my fair share! It certainly made up for some of the less plentiful buffets we had in Saigon and also the Luxury Hotel.
As I said, I feel somewhat uncomfortable recounting these highlights of the trip. What I do realise is that I enjoy experiences. I like feeling 'special' and 'splurging'. By contrast, the first 'thing' I bought was a set of metal cup measures! Seriously, the BF eclipsed me in the first week, but I came out strong in the end (largely due to finding a Banana Republic, which we don't have in Australia, and I find the clothes are exactly my style).
What makes an authentic tourist, or a proper holiday in your mind? I'm ready to make it controversial, so please be honest!