As regular readers would know, I wrote a list of 12 goals I wanted to complete in two years in 2013.  It's sort of like a mini bucket list, so that you get into action achieving those things you've always wanted to do.  And this blog is all about lists, and achieving my hopes, goals and dreams.  One of those things listed was to try jet skiing.
Thankfully, by sharing them online, my wonderful BF knows just what to get a girl for Christmas!  So whilst we spent a week in the Western most state of Australia (imaginatively called… Western Australia), he organised for me to go jet skiing!!!  Here's a map to get everyone orientated: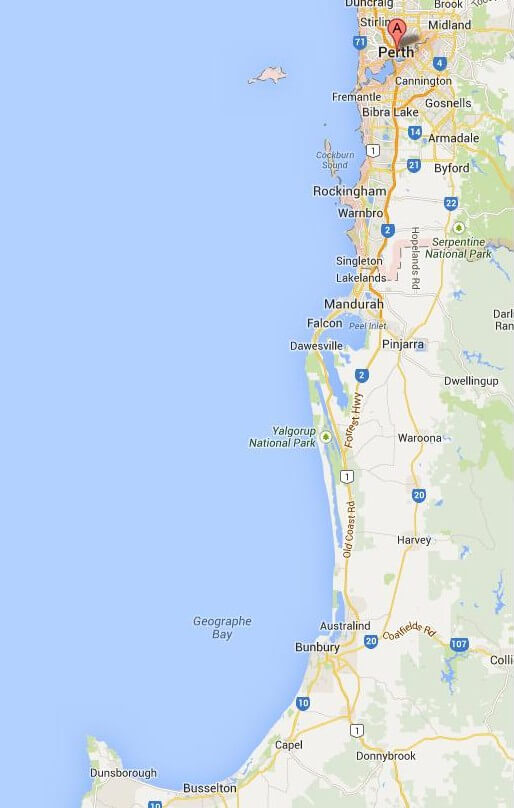 Whilst we were in Western Australia, we drove from Perth to to Busselton for a night away, thank to the BF's parents generous Christmas gift to us both.  We swam in the most Western of beaches (and it was beautifully deserted and untouched compared to Sydney beaches) near Dunsborough.  Sadly my phone was low on battery, and there's no delightful photos to share with you.
I'm not sure what came first, the chicken (the trip South) or the egg (Jet skiing), but I sure am pleased to have had the chance to jet ski around Mandurah.  The company (Stag water sports) was fantastic, seeming like little more than a pop up tent on the shoreline, but they ran a great 1hr tour, escorting us around the estuary, in search of DOLPHINS! (Yes, the yelling is totally necessary!)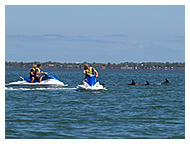 How'd I find it? Oh my gosh, if it wasn't for the BF sharing my jet ski, I might never have exceeded 10km/h!  He got right on and gunned it after our guide, whilst I screamed, and shouted, and hung on for dear life!  Despite the warnings that sunglasses might get lost if we were to fall off, I couldn't bare the glare without them. Sure enough, with a few strong turns left and right, the BF threw us both off, and all I was worried about was my $7.50 sunnies I'd only just bought! (remember the last pair ended up in my Waste Wednesday just before Christmas?).  Thankfully, I rescued my glasses and we got back on.
Eventually, I gave in to excessive reassurances and encouragement, and took the driving position.  Oh my, I am one serious looking jet ski driver! I had all the concentration in the world, and the strongest grip that I could hardly turn!  Plus, speed was scary.  But it was just lovely to see more of WA and be on the water.  
The best bit was on our route back to shore, we slowed down to a crawl, because our guide found a pod of dolphins.  In real life, dolphins are a lot less like Sea World.  There were no flips, and no riding on them.  They weren't even a perfect blue, more a darker grey tint.  And there fins weren't perfect either, these dolphins had grown up in the estuary of hard knocks, with evidence of them coming off second best to something! 
I was SO excited to see dolphins, I started waving at them.  I'm not entirely sure why.  I suppose I'm not a squealer, but it was equivalent.  It just *made* my trip, I tell you!  Eventually they headed deeper and we could no longer see them, so we did a little tour of a man made set of canals, and the huge houses and boats, before returning to shore.
It was a GREAT Christmas gift/experience that I'm sure not to forget.  Have you been jet skiing?  Have you seen dolphins – in the wild or otherwise?  Did you find them just magical