In my 12 in 2 list, I have some pretty ambitious goals – like running a half marathon.  Thankfully the idea of 12 in 2 is to achieve 12 different goals in two years, so the half marathon isn't something that's likely to happen soon, but I have to start somewhere, right? (I have an upcoming post about how I plan to get around to all my 12 in the 2 years, complete with a plan for the $).
I've always been a walker – I walk when it's the easiest option.  Given I don't have a car, that's all the time!  But upping the ante to running? Well that's another story!  So I discovered that Runkeeper has programs, so I signed up to a 5km program – that trains you slowly to get to up to running 5km.  Once I master that, I can start on a half marathon program.  I started looking at the half marathon programs, and they already expected I could run 5km, so… makes sense to start smaller!
I started small, but I've 'ramped' it up of late:
Week of 17 Feb – 1.5km
Week of 24 Deb – 2.4km
Week of 3 Mar – 10.3km
Week of 10 Mar – 13.8km
Week of 17 Mar – 19.7km (includes 100% walking (~4.4km) & run/walk combos)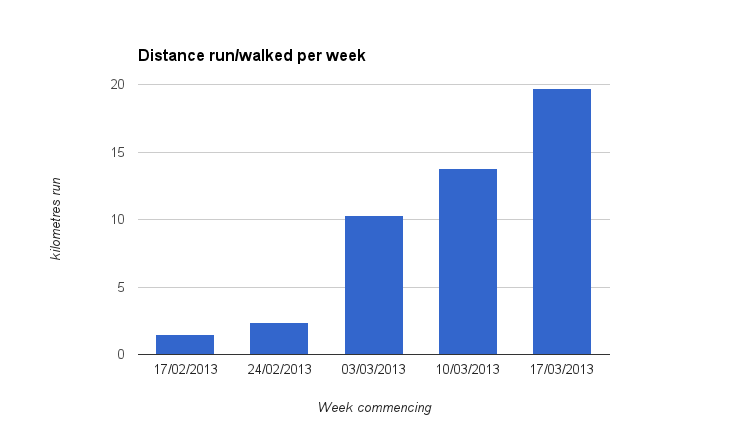 Evidently, the first weeks were pretty lame.  My running partner was out of town for a funeral, so I made that an excuse not to do my workout every second day.  But, now I've mastered the Runkeeper 'reminder' system, and powered on alone.  Our first 'team' run is a 3.2km jog, which marks the 13th workout of 28.   Based on the training schedule I'll be reading for a race on 19 April! I've found a 7km run in Sept which is over the Sydney Harbour Bridge, so I'll do that – by that time I should easily be able to manage a 7km race.
Let me assure you, it's not been easy.  My Saturday 3.2km run was HARD WORK (after a few drinks on Friday night).  But I persevered, and I was happy to be finished at 20 min 20 seconds!  It was hard, even though earlier in the week, I ran 3.85km in a set 25 minute run target.  Then on Monday, I was tasked with a 45 min walk/jog, and shocked myself with a number of personal bests – getting a distance of 6.1kms in 50 mins (that's about 7.32kms/h – I 'walk' a bit faster on the treadmill, but that's 'easy' in comparison to real life)!  However, back to a hard day on Wednesday, when I couldn't for the life of me jog at a snail's pace for the full 3.2kms outside in the real world – instead, there was a lot of walking (and therefore more kms achieved).  Interestingly, Runkeeper tracks elevation, and there's some 40m 'spikes') so that might explain some of the difficulty.
So, I'm on track to get to 5km, a mini goal to getting to a half marathon.  Thanks to a blog, I feel somewhat accountable.  However,  just yesterday, I started getting twinges of shin splints.  So I'll ice them, stretch more.  I'll only do it every second day (and try to cut out incidental walking, esp in the WRONG shoes!).  Or I might just take things a little easier for the time being… tough call.
How do you find reaching your fitness targets?  What ambitious goals have you set yourself?